Introduction
Startups are the companies rapidly building our future. Take a look at how some of today's most successful businesses are shaping our daily lives: Paystack, CragPay, Sudo.Africa, Flutterwave, Dollar Shave Club, HelloFresh, and countless other case studies of the fastest-booming companies that started in a start-up growth structure that nurtured their success
Venture studios are a new way to create companies by working on a project from as early as the problem-identification stage to launch, and this greater involvement allows the venture studio to retain more equity and returns. Throughout this paper, we will be referring to venture studios (sometimes also known as "startup studios") based on the following definition:
These are companies (mostly built up of experienced entrepreneurs, innovators, and investors) that have the funds, in-house expertise, and patience to build their own startups from scratch.
This new business model for creating startups is becoming increasingly popular across the world. In 2020, Enhance Ventures reported that there are roughly 560 such studios across the globe, representing more than 625% growth in the studio market over the last seven years. In our view, venture studios are undoubtedly disrupting the startup world, and many people credit the success of venture studios to several unique attributes of this model, e.g. they provide companies with experienced entrepreneurs and investors, a creative environment, corporate partnerships, and large investors looking to build companies.
In this study, 500.co look into some of the most commonly held beliefs for why venture studios thrive and compare them with 500.co internal data and the performance of a select group of noteworthy venture studios. The results of their study suggest that the ideal environment and location for venture studios may not necessarily be in Silicon Valley, and why the timing of establishing such studios may be more important than existing industry knowledge or investment. A realistic understanding of the advantages of venture studios and how their landscape is developing is crucial for future investments and startup building.
The Best Venture Studios aren't Always in Silicon Valley
While many startups and investors gravitate towards Silicon Valley as a hub of entrepreneurship and innovation, we believe that the best venture studios may not necessarily be based in the San Francisco Bay Area, or even in the United States. This may be because many founders in Silicon Valley have such an abundance of resources that venture studios may not appear as attractive or worthwhile. Instead of relying on ready resources, venture studios seek to cultivate a business ecosystem by building a network and fueling growth in new growing regions. One of the most valuable aspects of venture studios is the critical resources they provide to support a new company, including strong team members, capital, technology, and an entrepreneurship network.
At Provarex, we strongly agree on 500.co experience working with startups and corporate partners, we find that there are several common ingredients of venture studios, namely Team, Technology, Capital, and Network.
What a Venture Studio Brings to each Company or business
Team: Capacity to attract and assemble talented individuals to build and scale ventures and the team that can execute a repeatable, scalable framework for testing, validating, building, and growing ventures. From age to skill, the people on the team can highly influence the startup's success. Founding teams with previous experience at Amazon, Facebook, etc. built companies that performed 160% better than average.
Technology: Leveraging new technology to scale quickly and create new value. Technology if leveraged in an advantageous way can greatly elevate the capabilities of any startup.
Capital: Access to seed and growth capital. Corporate partners are investing in venture studios, and have a large incentive to help them succeed. For example, P&G opened its venture studios to partner with startups in the consumer packaged goods space.
Network: Access to stakeholders such as corporate partners and government agencies to boost specific venture growth. There are also strong shared services to support the ventures, such as legal, finance, recruiting, and platforms to enable knowledge sharing. Venture studios connect startups to the right people with the right answers. This can quickly provide the startup with specialized knowledge and reduce trial and error situations.
When looking at some of the noteworthy venture studios based outside of the U.S., they frequently cite their ability to recruit top entrepreneurial talent and resources as reasons for their success. For instance, eFounders which is based in Paris and Brussels, stated that one of the key components to their success was their ability to scale recruiting efforts, and find the right entrepreneurial talent through their internal connections, as well as leveraging new and growing external entrepreneurial networks.
These skills would not have been as valuable in established startup communities in Silicon Valley or similar hubs, where entrepreneurial talent can be found nearly around every corner. We believe venture studios to be the leaders of innovation in their cities and regions as they often employ diverse employees to leverage networks across the world. For example, Finleap is leading Europe's fintech ecosystem and has a diverse team representing 80+ nationalities and engaging in 15 European countries.
Therefore, some of the top ranked venture studios globally are in growing economies around the world. Venture studios are a great business model to create entrepreneurial hubs and connect valuable resources: knowledgeable entrepreneurs, investors, and a growing economy.
Noteworthy 12 Venture Studios Located Across the World 7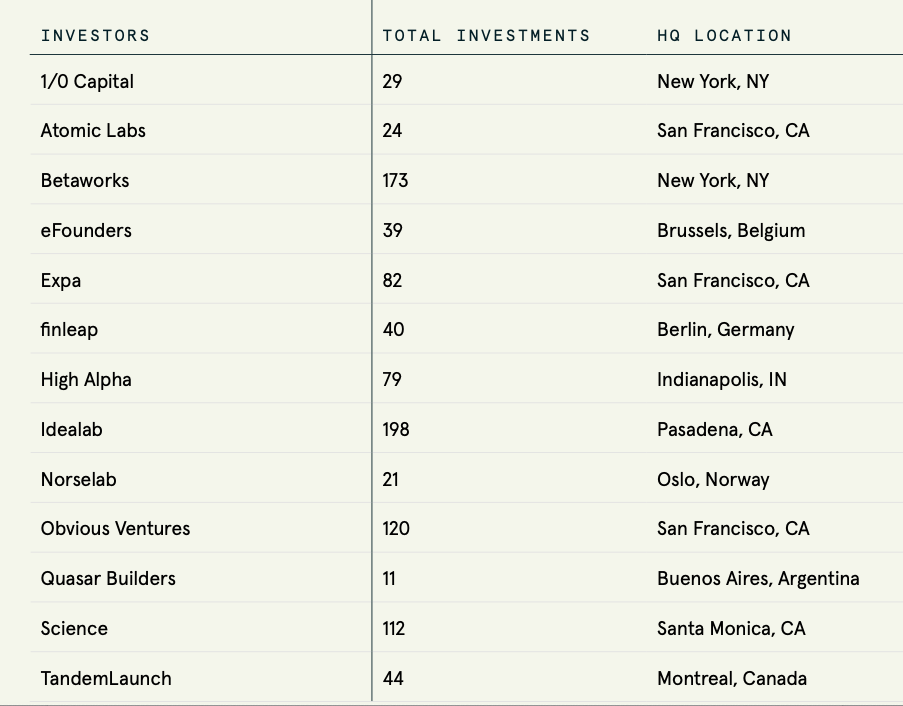 Top ~500 Venture Studios Located across the World 8
Source: https://500.co/theglobalvc/the-secrets-to-venture-studio-model-success